Hold-down frames sets are used by the Topmaster to hold the workpiece in place. There is an upper and lower frame in each set . Each set handles a variety of workpiece sizes. Depending on the model. Up to two sets are furnished with a Topmaster. Generally, additional frame sets are ordered with the machine.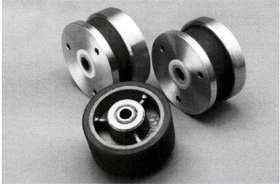 One custom profile banding wheel is provided with the purchase of each Topmaster.The profiled banding wheel is used when the T-molding requires extra support to correctly feed the barb into the slot. Because of the characteristics of certain (high durometer) moldings, not all T-molding need a custom wheel in which case a flat wheel is provided. T-moldings which are either very soft , have a complex profile, or a small radius will require a custom wheel.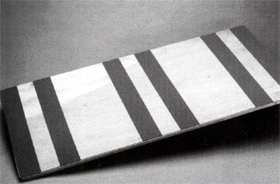 The template is used to control the shaping and grooving arms of the Topmaster. Templates are simple construction of 3/4″ plywood with a 1/2″ aluminum edge wrapped around the perimeter for wear. The template is sized 1/2″ per side under the actual dimension of the part. most customers provide their own templates although they can be purchased though KRP Manufacturing Inc.